Oscar the Grouch is a Greater Swiss Mountain show dog who lives just steps away from Madison Square Garden, the home of the prestigious Westminster dog show.  Overcome with excitement, Oscar and his owner David will be competing in the Westminster show in 2012.
David never imagined that his 120 lb GSMD puppy would become Grand Champion and the #3 ranked Swissy for January 2012.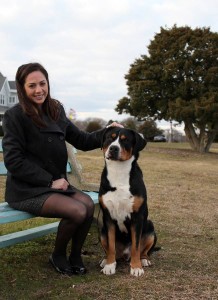 But Oscar, who goes by the name "GCH Matterhorn's Oscar the Grouch CGC" at shows, is more than just a show dog. He is the type of dog you grew up with, the incredibly friendly neighborhood dog.  Many in Oscar's high rise apartment building adore him and have seen David carrying him when he was all of 12 lbs. Oscar has many neighborhood friends who he frequently plays with and visits. The mail woman brings treat for him every day, his doorman love to play with him. Whether it's Madison Square Park or just a walk along 3rd ave, everyone loves Oscar!
Oscar is David's first show dog. Attending his first dog show, he had no idea what to expect. Oscar exceeded expectations and performed very well against other Greater Swiss Mountain dogs.  He quickly started winning.  He finished his championship in 3 months, grand championship while still a puppy while still under 2 years of age!  And now Westminster.
Not to be missed, when David comes to him after he performs at a show he gives a trademark hug to say hello. Oscar is a gentle giant who especially loves his giant stuffed Tigger.
After 5 best of breeds in January 2012, Oscar is ready to defend his home field advantage. He will be Greater Swiss
Mountain Dog (Swissy #18). Please clap and cheer for him and come by and say hello!